The Duke and Duchess of Cambridge have prepared soup and bread for young people who have been helped by the homelessness charity Centrepoint.
William and Kate were visiting the charity's centre in Barnsley, South Yorkshire, when they were asked to help prepare lunch before serving food to two of the young people who have been helped in the town.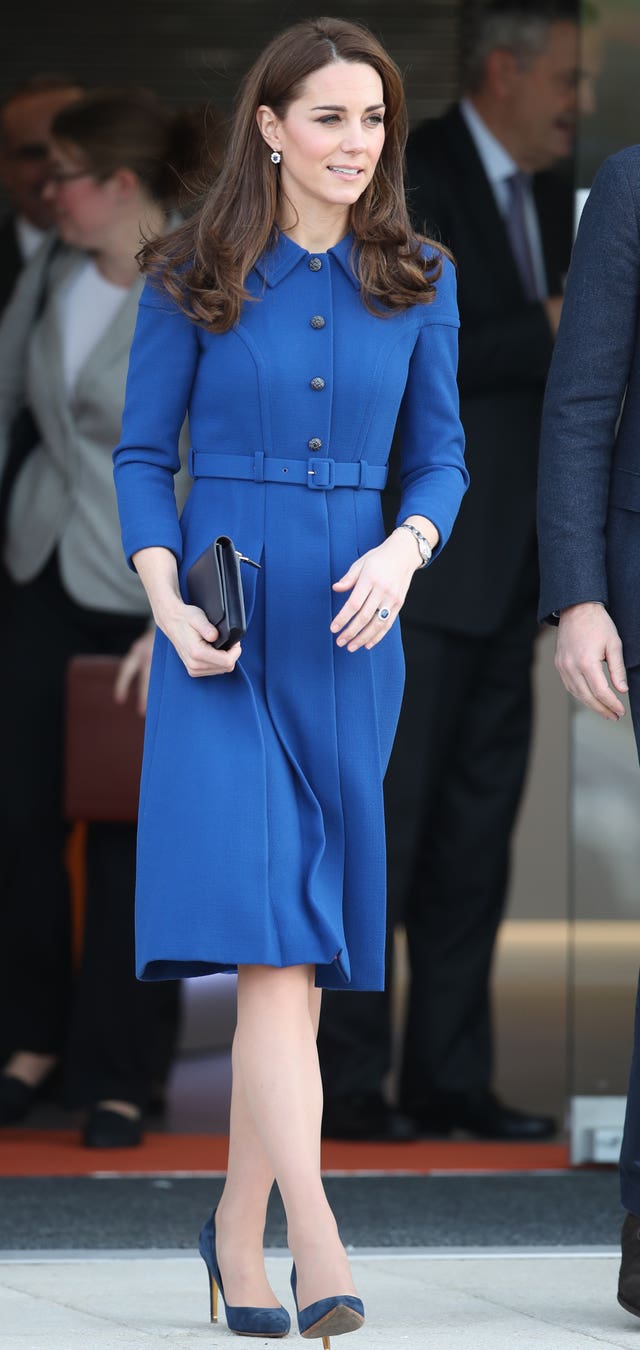 The couple looked relaxed as they chatted with staff and young people, with the duke joking it was far from a normal lunch as he gestured to the photographers and reporters ranged in front of him.
Kate, wearing a blue Eponine dress, arrived with William after the couple had opened a new £50m McLaren supercar factory in the Advanced Manufacturing Park between Sheffield and Rotherham.
William said he looked forward to seeing more of the supercars on the roads after he and Kate Middleton were shown around McLaren's Composites Technology Centre (MCTC).
The royal couple was joined by the Crown Prince of Bahrain, Prince Salman bin Hamad bin Isa Al Khalifa, who is one of McLaren's main shareholders.
The site aims to be a world leader in innovating lightweight carbon fibre tubs that are integral to the agility and performance of McLaren's supercars and sportscars.
McLaren chief executive Mike Flewitt said the firm's first factory opened in Woking seven years ago and now more than 90% of its products are exported worldwide.
He said: "We already have over 50 talented, dedicated pioneers working here in the region, many drawn from the local area, many met the Royal Highnesses this morning."
Mr Flewitt said by 2020 the site would employ more than 200 people, bringing McLaren's total workforce to 3,500.
The Yorkshire site "was more than simply a factory", Mr Flewitt said, adding: "Although manufacturing is an important part, it's an innovation centre, a place where new technology will be developed."
One of the royal couple's lunch partners said she got a hug from the duke, who went for the red pepper and chorizo soup, as did Kate.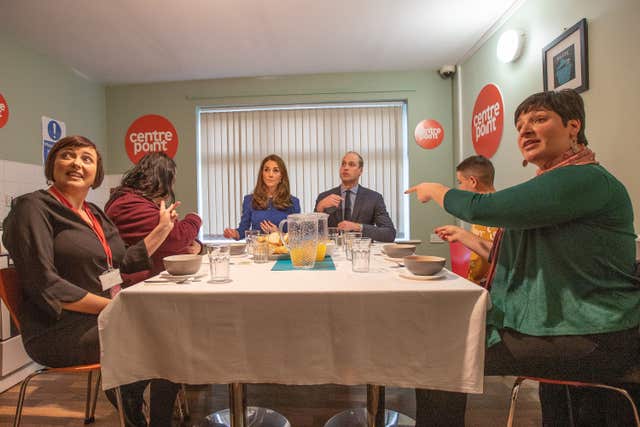 Chelsea Jenkins, 23, who opted for the vegetable broth, said: "We talked about how much Centrepoint has helped us and our difficulties.
"He gave me a hug at the end. They're really nice people and I'm glad I met them.
"The soup was nice but I didn't eat all mine. I'm not a big eater."
But Ms Jenkins said the duke and duchess polished off all theirs.
William joked with her about a laminated card setting out how advice on protocol for meeting members of the royal family, which she had left on the table in front of her.
Bringing in the soup on a tray, William asked the diners "whose having chicken" before apologising for the bowls being a bit full.
Kate followed with a plate of bread, and William joked: "It's not the usual lunch with everyone in here."
The royal couple both had the Big Broth, which was developed with Centrepoint after a national recipe competition and is being sold through Waitrose, with 20p going to the charity.
Gareth Bradbury, 24, helped the duchess with the bread cutting.
"William was making the soup with Lewis and Catherine was cutting the bread," he said.
"When we were done, William made a joke – 'That's not cut bread, they're more like doorstops', which is quite funny."
Mr Bradbury said: "They were a really calming presence. He puts you at ease and he talks to you on a nice level."
Lewis Gwynne, 24, helped William with the soup.
He said: "I was just standing there and talking about my past with him. He seemed like a normal person."
William has been patron of Centrepoint since 2005.
It supports more than 60 homeless young people in Barnsley every day.
William and Kate opened the centre's new Andy Norman Learning Hub, which has been built to provide a dedicated space and resources for young people at risk.
The couple chatted to young people who were learning about Remembrance Day.
The duke said: "That's what I find most scary – how many millions of people were killed."
He asked the women if they understood the significance of the poppy, and said: "There were 15-year-old and 16-year-olds who lied about their age. It's amazing how brave they must have been back then to go."